Do you remember the last time you spent your birthday at the office? Did you feel festive or was it just a regular working day for you?
How We Do It
At ST6 we respect everyone's birthday and we believe that each ST6er deserves to feel special on this exact date. Therefore, our party queen Lidia takes care to prepare a personalized gift and desk decoration for every birthday boy and girl. She uses accessories, balloons, and treats usually related to their hobbies or favorite movie. The COVID-19 times we live in haven't changed a thing. If an ST6er is at home, their birthday surprises are delivered straight to their home office.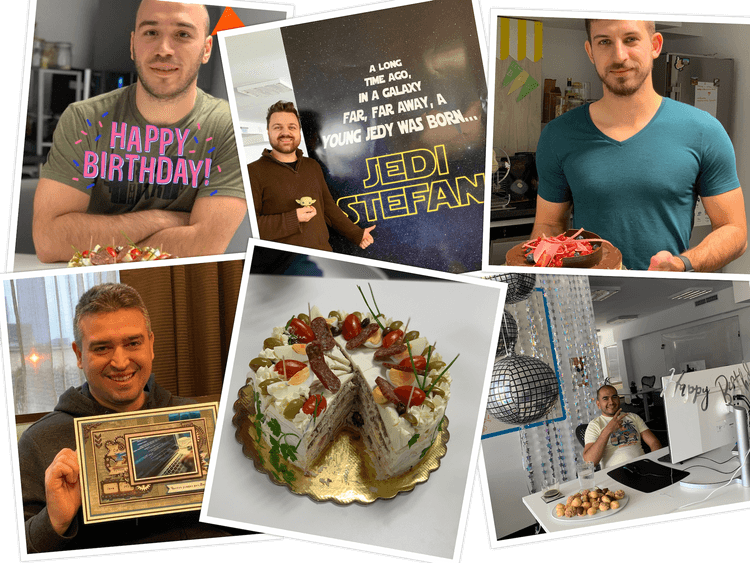 In addition, the company offers an extra day off to every ST6er for their birthday. It's a great opportunity for each of us to spend time doing what we love. One might even experiment with a thing that they have always wanted to do but have never managed to fit into their schedule. For example, taking the first swimming lesson or hiking around the nearest mountain for a day. And if you're not in the mood for adventure, you could just sleep till noon in the middle of the week and read a good book in the afternoon.
What About My Birthday?
I joined the company recently so I have to wait a few months till my desk converts into a disco. What I know for sure is that I'll take advantage of the extra day off to hang around the city as I always do for my birthday.
Join Us!
Wanna have a special day on your birthday? Check our careers page, join the ST6 team, and celebrate as every ST6er does!